AXE THROWING HYDERABAD, INDIA
Over the course of an hour, you and your buddies will get to know a 600gms axe very well as you train together, compete in a round-robin tournament, and ultimately decide who among you will be crowned Axe Throwing India Champion. Our Axe Throwing Hyderabad events are managed by professionals who will instruct you on the proper way to hold and throw an axe, as well as provide pointers on how to hit the bullseye.
WELCOME TO INDIA'S FIRST AXE THROWING LOUNGE
Friendly rivalry amongst loved ones or coworkers is always a good time. In just two hours, you can go from knowing nothing about axe throwing to competing in a tournament. You'll have time to hone your skills, of course.
One loses if they lose to every other player in a knockout round. If your axe lands in one of the target areas, you gain points. Those that score highest advance to the next phase. The winner can declare himself or herself "The Axe Throwing India Champion"!
Basic Package (1PAX)
-10 Throws – Rs.300
-20 Throws – Rs.500
Unlimited Packages:
15 Minutes
-1PAX – 1AXE – 1LANE – Rs.750
-2PAX – 1AXE – 1LANE – Rs.1000
-4PAX – 1AXE – 1LANE – Rs.1500
-8PAX – 2AXE – 2LANE – Rs.3000
30 Minutes
-1PAX – 1AXE – 1LANE – Rs.1250
-2PAX – 1AXE – 1LANE – Rs.1500
-4PAX – 1AXE – 1LANE – Rs.2500
-8PAX – 2AXE – 2LANE – Rs.5000
Extra AXE – Rs.250
Contact for Bulk/Corporate Bookings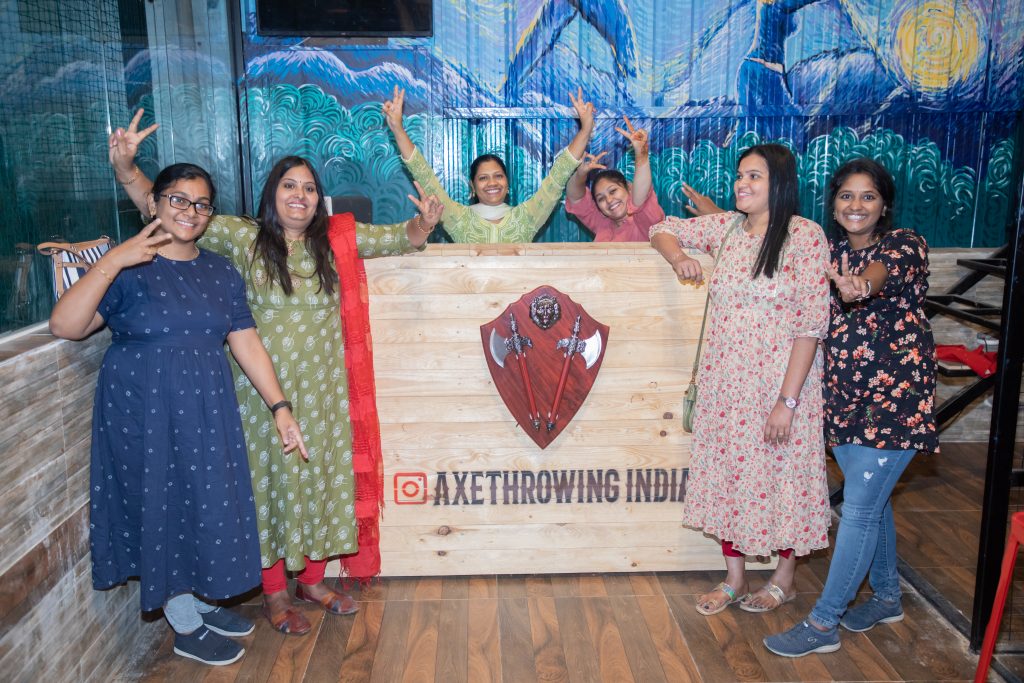 When employees interact and collaborate, it improves their performance, aids in conflict resolution, and increases mutual respect. When done properly, tomahawk tossing may be a fun and risk-free way for coworkers to spend time together outside of the office.
Celebrations of life's many milestones and anniversaries, as well as themed parties and bachelor(ette) bashes. Come throw some axes with your buddies and commemorate life's most memorable moments at Axe Throwing Hyderabad.
Indoor Competitive Axe Throwing
You only need to put in one session of practice per week to come out as the champion. Put your axe-throwing skills to the test and see how you stack up against the rest of the pack. There will shortly be additional details.